Every once in a while the social media gods smile upon you and lead you to find a hidden gem among all the blinking ads. Such was the case with Mark Brownlow's first book in the Mr. Bennet Memoirs, Cake & Courtship. I had it on my to-read list for far too long. When I saw he was going to be releasing the second book in the series, I knew it was time to get reading!
Cake & Courtship was absolutely delightful. I can tend to lean more team Mrs. Bennet, however, this Mr. Bennet that Mark has created won me over and left me excited to read more. While being careful to not classify this book as romance, I would say there is just enough of a hint to keep even the most dedicated romance reader (like myself) happy. If you have not read it yet, I highly recommend it.
Today, I would love to share with you the second book in the Mr. Bennet's Memoirs series.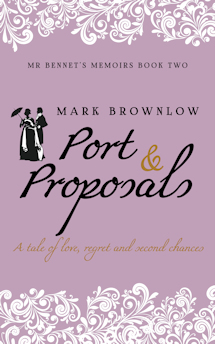 Here is a little teaser (exclusive to PATL) from Mark of what to expect from Port & Proposals…
"The poets write of unrequited love, but unfulfilled love seems of less interest to them. Where are all our stories and poems?"

So speaks Mr Bennet in Port and Proposals and, in doing so, gets to the heart of the novel.

We see the second half of Jane Austen's Pride and Prejudice unfold through the eyes of the family father and learn how disappointment in love can change a man. But life will not leave Mr Bennet be. And so he has his own story to tell, too, as he seeks to make amends for lost opportunities.

Armed with his trademark wit, wisdom and wry view of life, he turns his attention to nurturing the precarious relationship between his daughter, Mary, and a young curate. But events and people conspire to thwart his best intentions. Will he come to terms with his past and ensure a happy end for all?

"Take some advice from your father, Lizzy, and never pull at old threads. They come apart."

Author Bio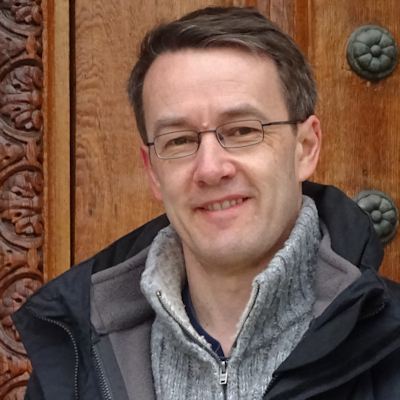 Mark Brownlow is a British-born writer living in Vienna, Austria. He has published three Regency tales narrated by Mr Bennet: the novels Cake and Courtship and Port and Proposals, as well as a short story (A Third Proposal). He has also authored two novellas in the Charlotte Collins Mysteries series: The Lovesick Maid and The Darcy Ring take place in Jane Austen's fictional village of Hunsford. You can find Mark at LostOpinions.com.
Science degrees from the Universities of Oxford, Aberdeen and Reading prefaced a short-lived career as a research academic. Since turning from facts to fiction, Mark has also worked as a translator, marketing consultant, business writer, and copywriter. None of which kept his soul happy in the way that creative writing does. When not writing, he works as a travel journalist and part-time lecturer in medical and scientific English at a local university.
If there is no pen to hand, he can be found discussing football with his sons or sharing a glass of wine with his wife in front of a costume drama.
Mark's website
Mark's author page at Goodreads
Mark's author page at Amazon.co.uk
Mark's author page at Amazon.com
Mark on Twitter
Mark on Facebook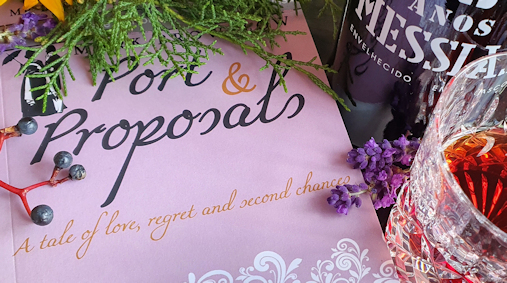 All Mr Bennet wants to do is read books, eat cake, and study butterflies. But life has other plans for him in this Regency tale of love, regret, and second chances.
Family troubles and a promise to his middle daughter, Mary, force our father of five out of his library to deal with reticent bachelors, stubborn curates, and glib officers. Though his greatest challenge may be to face up to a past he cannot seem to forget.
Mark Brownlow presents a Pride and Prejudice variation full of Mr Bennet's wit and wisdom that plays out against the backdrop of Vols II and III of Jane Austen's famous novel.
Although a standalone story, Port and Proposals is also the sequel to Brownlow's Cake and Courtship.
A huge thank to Mark for asking me to be a part of his blog tour. I can't wait to read more of Mr. Bennet's adventures.