Astrology links the movement of celestial bodies to human affairs and the natural world. If you are interested in this connection, apps can offer you valuable insights into your life based on the placement of the planets.
Discover the best astrology apps that can provide you with answers about your daily horoscope, birth chart analysis, relationship insights, and more. You can also visit the reliable astrology blog to know more about this.
Co-Star
The app called Co-star has over five million users across the globe. The app uses proprietary technology and artificial intelligence to analyze your personality based on the exact minute you were born and provides personalized insights into your strengths and weaknesses. It also provides direct and honest feedback. This unique feature backs the app's eye-catching style.
Co-Star is a popular app known for its stylish black-and-white design, user-friendly interface, and amusing content. Over 20 million people have downloaded it, which is especially popular among 18-25-year-old females, with 25% downloading the app in the United States.
Astrology Zone
This app offers an improved user experience for those who read Astrology Zone on their mobile web browser. It provides monthly horoscopes and daily readings for all twelve signs. You can access detailed analyses for the current month or the previous month, as well as yesterday, today, or tomorrow's readings at any time.
For about $5 a month, the premium version of this app offers more detailed daily readings and a full horoscope released every Sunday to set the tone for the week.
Additionally, premium subscribers can access an important dates list, a library of Miller's essays describing the nuances of planetary movement, and a "Learn Astrology" segment with details about the planets, the elements, and how they impact personality qualities.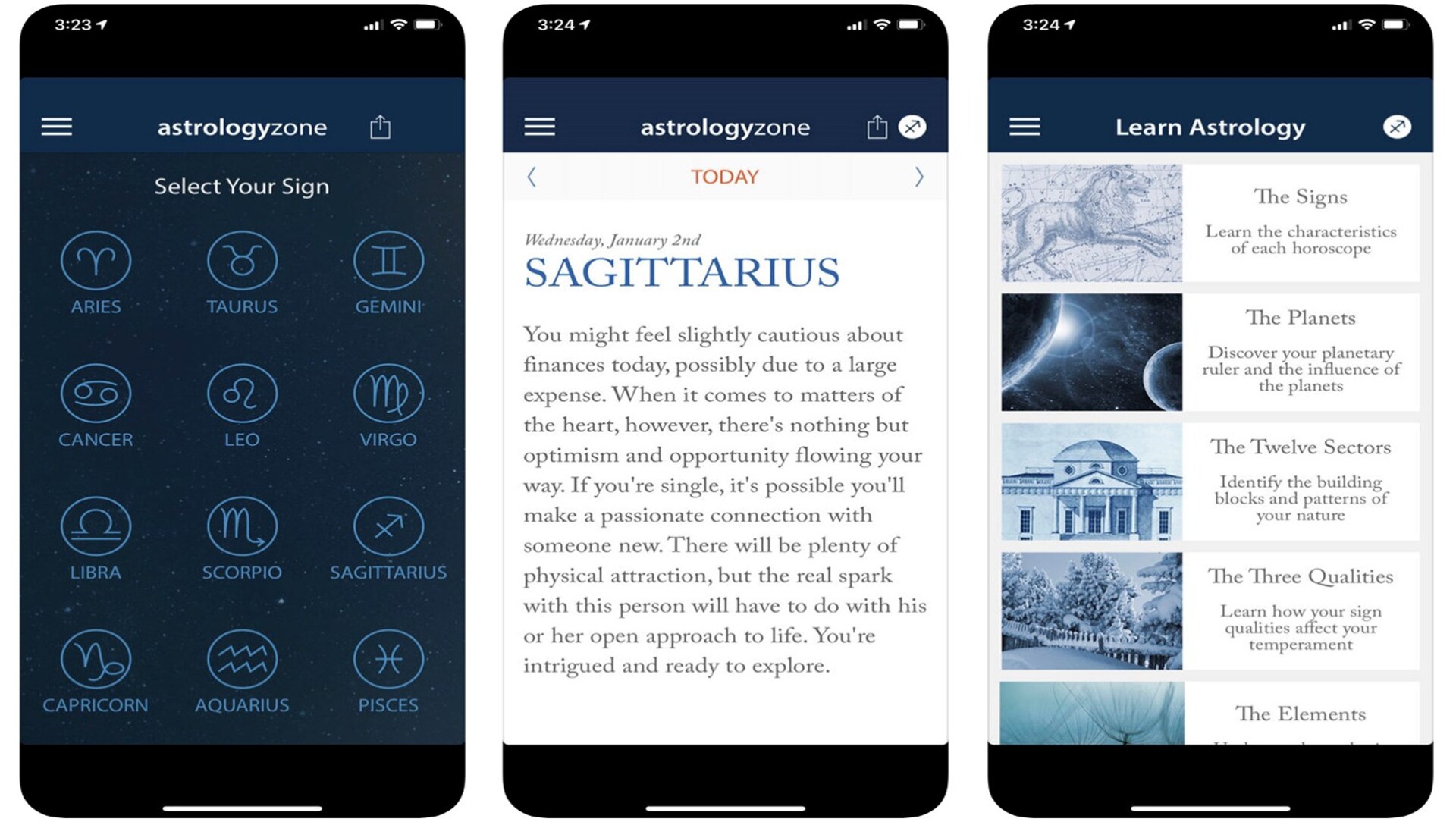 The Pattern
To get started, enter your name, gender, place of birth, exact time, and date. You can also provide information about a friend, relative, or potential business associate to run a relationship analysis even if they are not using the app.
This app is excellent for users who want to learn more about their astrology readings without worrying about zodiac signs and specific terminology. The app provides detailed information about your life in three categories: foundation, development, and relationships.
You can choose between a quick or a deep reading, which includes in-depth analysis. The Pattern is a social network allowing users to connect with friends. Additionally, users can explore how the cosmos may impact their relationships.
Sanctuary
Sanctuary offers various options, including daily horoscopes and sign guides. If you want to ask questions to an astrologer, you can subscribe to their service for around $15 per month. With this subscription, you can have one 15-minute live reading per month and chat with the astrologer to investigate a particular area of your life.
Additionally, they provide guides to your sign and access to basic information about every zodiac to improve your knowledge of the people around you. Sanctuary offers free access to daily horoscopes, Starry-Eyed news, and a variety of GIFs, emojis, and jokes. Additionally, you can find on-demand astrologers and get hyper-specific insights on day-to-day problems through the platform's question-and-answer feature.