Can you imagine even one day without your smartphone? A device forgotten at home can be a real problem.
You can save yourself the headache by using special utilities that allow you to control your smartphone remotely. The principle of such software is the same as the remote desktop on personal computers – you will only need to connect to the device, and then you can do what you want. Such utilities are helpful in many cases. For example, if you need to open important photos or messages on your phone. Or get the number from your contacts, or even call someone.
The functionality of the utilities directly depends on the service you will use. In this article, we have collected the best phone remote access apps.
AirMirror
AirMirror is probably the most exciting application on the list. It gives you full control over your Android devices that you can access from another source, be it a PC or another smartphone or tablet, etc. With this app, you can also transfer files, photos, and videos between devices, which is extremely convenient and practical.
Chrome Remote Desktop
Chrome Remote Desktop is one of the easiest options for controlling your computer from your phone. Its advantages are that you don't even have to install anything to work on most PCs because this utility is powered by the Chrome browser used by the vast majority of users. In addition, for Chrome Remote Desktop, it doesn't matter at all what OS you'll be using it with. It can be Windows, macOS, or even Unix. Other notable advantages of Chrome Remote Desktop are that it's completely free to distribute, and there's no need to install additional software to make it fully functional.
TeamViewer
TeamViewer is one of the most popular programs of its kind. It is often used for communication between two computers, but it can also work between a mobile device and a computer.
This program is free for personal use, but to use TeamViewer for commercial purposes, you will need to pay $50 per month. You won't need any settings for basic use, so you can just download this utility and use it at your pleasure.
As for the main functions that TeamViewer provides, we can highlight:
Remote control of your smartphone.
Remote change of smartphone settings.
Installing applications.
Creating screenshots.
Viewing notifications displayed on the phone's home screen.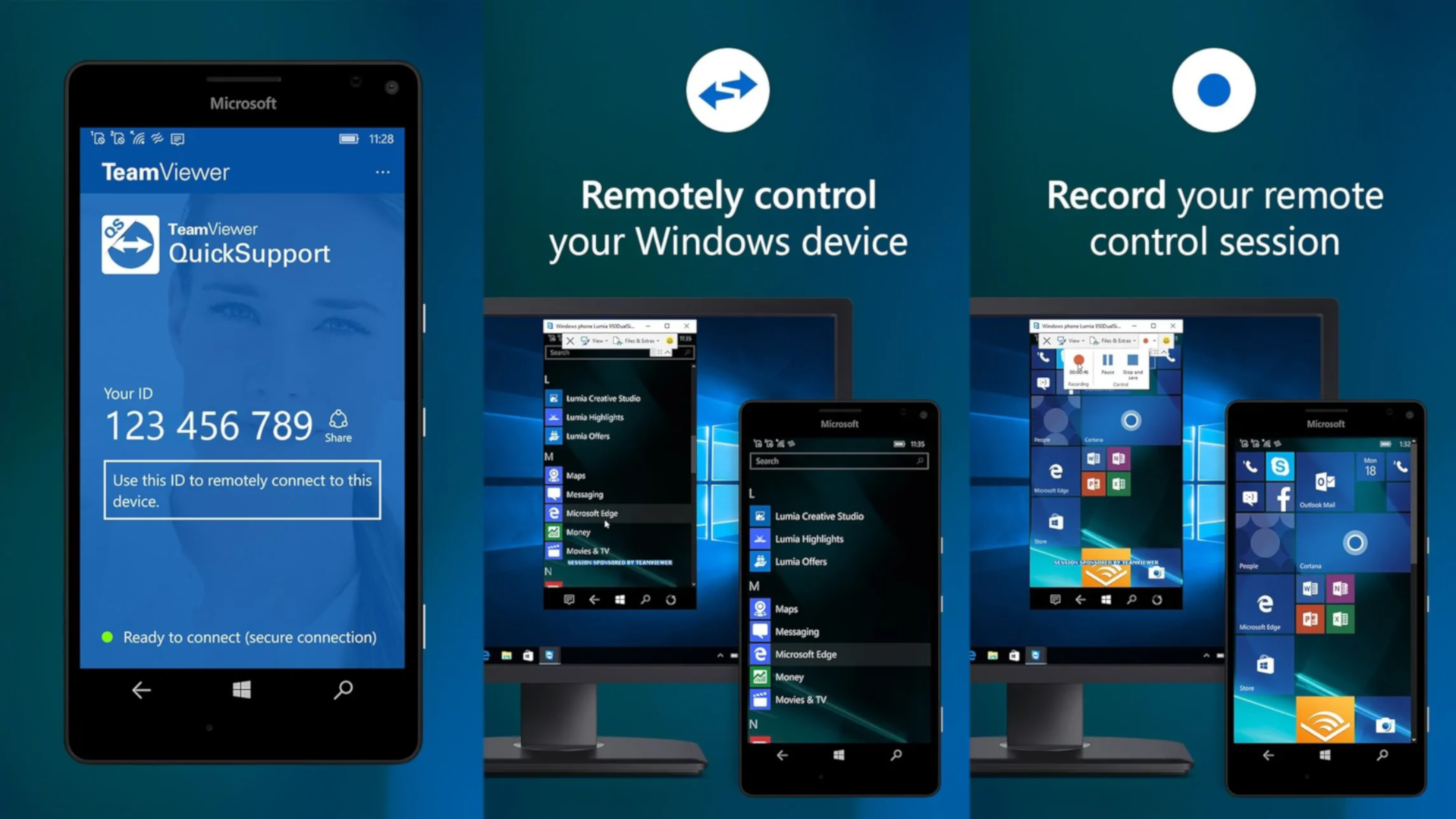 SplashTop
SplashTop is one of the most popular programs for offline remote access to various devices, including Android phones and tablets. It is an easy-to-use software application that even someone who has never used a utility like this before can understand its interface.
AirDroid
AirDroid is a simple and efficient tool to control your smartphone via PC. This utility helps you to organize remote control using your browser – you can use AirDroid directly in your favorite Chrome without having to install a full-fledged application.
MyPhoneExplorer
MyPhoneExplorer is a very popular program with which you can not only see the file system of your phone or tablet but also enable synchronization, transferring to your hard drive all important data. With this utility, you can control your smartphone in different ways, including USB, Wi-Fi, and Bluetooth. They all differ in performance. So, for example, the USB contact method will be the fastest, while Bluetooth will be the slowest. But the advantage of Bluetooth is that it will work over a long enough distance.